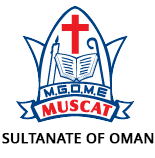 Oman is strategically an important country in the Gulf region. With the newly found wealth of oil in the 1960's and with the beginning of a new region in 1970 under the enlightened and dynamic le1adership of the present ruler H.M. Sultan Qaboos Bin Said, the dawn of modern Oman began.
Prior to 1970, only the Anglican service was conducted at the sole Church in Muscat which was run by the American Mission. A few members of Malankara Orthodox Church who were in Oman those days, used to attend these services, as there was no facility for our traditional worship. With the influx of more and more immigrants to Oman, the Kerala Christians felt the need for conducting their services in Malayalam. Their initiative had paved the way for the formation of the Malayalee Christian congregation in July 1970.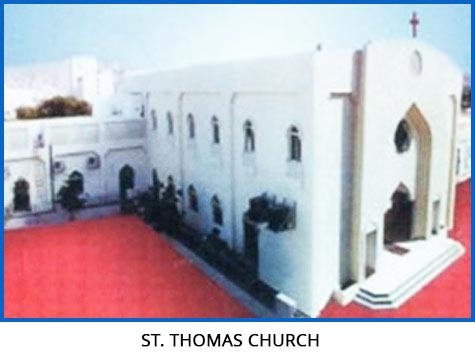 The necessary for conducting the Orthodox Service was very much felt by the members of our church, who were the largest group in the congregation. So our members approached the then Metropolitan of Outside-Kerala Diocese, H.H Mathews Mar Athanasius (The late Catholicos and Malankara Metropolitan). His Grace has agreed to arrange the services of Rev.Fr.T.A.Jacob, the then Vicar of the Orthodox Parish in Abu Dhabi, and instructed Achen to visit Oman in order to cater to the religions aspirations of our people. Achen had accepted the call of the time and celebrated the Holy Qurbana at the Muscat Church on the 1st September 1972. On the same evening, a meeting of our members was held in the presence of Achen and decided to establish a Parish, to be dedicated to Mar Gregorios of Parumala. Thus, Mar Gregorios Orthodox Church, Muscat came into being.
Later in November, 1972; Rev. Fr.T.A Jacob was appointed the first Non Resident Vicar of our Parish while being the Vicar of Abu Dhabi Parish. Rev. Fr.T.A. Jacob was succeeded by Rev.Fr.P.M.Mathew, the then Vicar of Dubai Orthodox Parish. With more and more people of our faith began arriving, the dire need for regular services and a resident vicar was voiced by the Parish. His Grace was helpful in this matter and appointed Rev. Fr. C.M.Philipose, as our first resident Vicar in December 1974. Since then, we had an array of eminent clergy to lead our parish.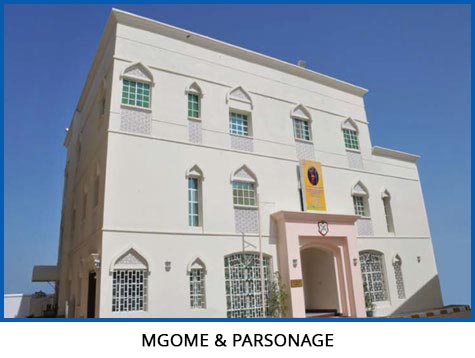 When His Majesty graciously allotted a large chunk of land in the heart of Ruwi for the use of the Christian community in Oman, the Roman Catholics and the Protestants constructed two separate Churches. Since 1977, we had been conducting our service in the new Church built by the Protestant community. Meanwhile we also had our own parsonage built in the church complex in 1977.Initially our parish was attached to the Diocese of Bombay. Later in 1979 when the Diocese of Calcutta was formed under H.G.Stephanos Mar Theodosius, the Parish came under the Diocese of Calcutta.